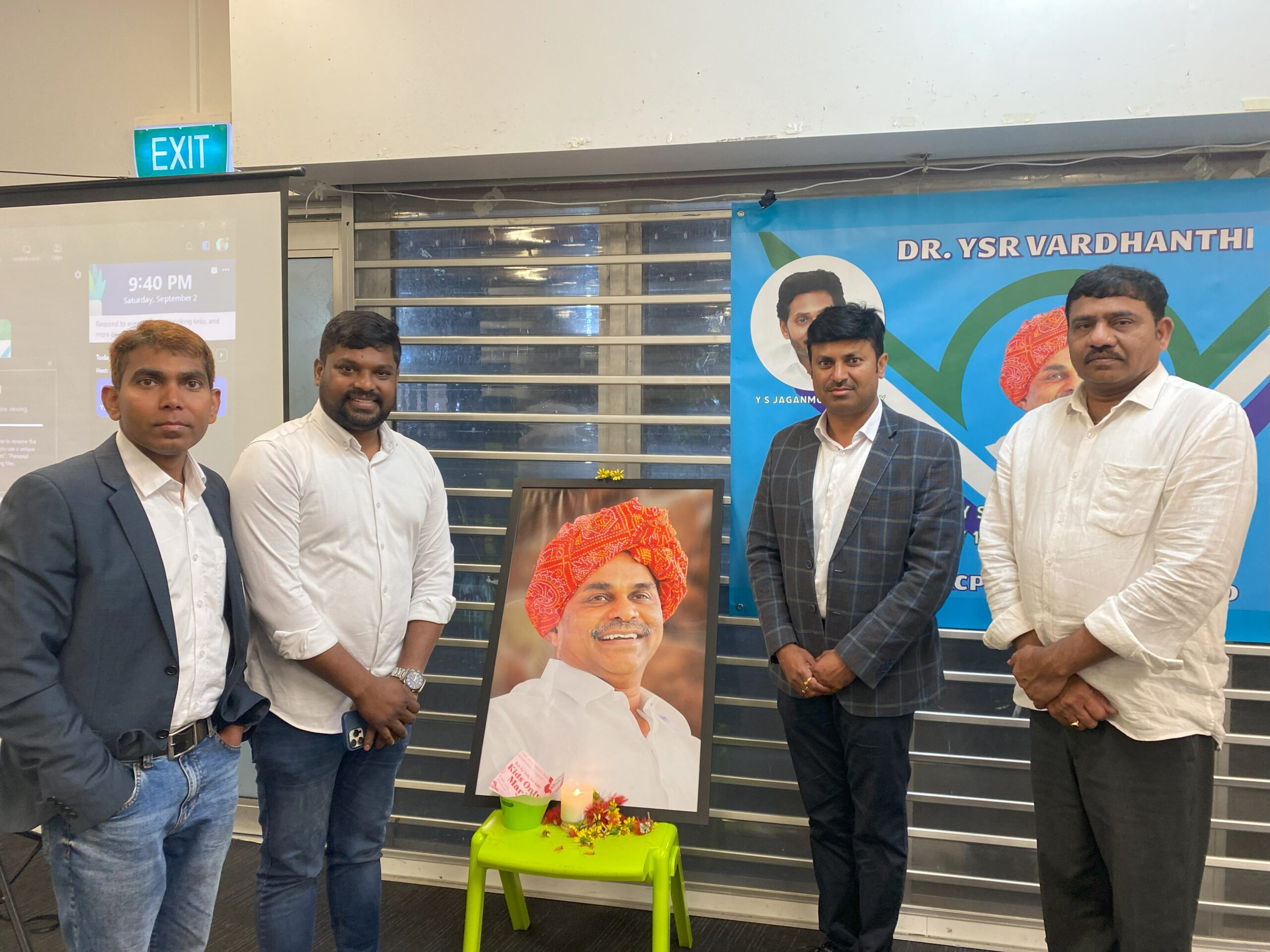 YSRCP NRI New Zealand, a Telugu community group in Auckland, led by Anand Yeddula, who is originally from Andhra Pradesh in India and is working as a senior IT Consultant in Auckland, organised Dr YSR VARDHANTHI program at Wesley Community Centre, Auckland and a blood donation camp at NZ Blood in Epsom on Saturday, 2nd September, which was the 14th death anniversary of late Andhra Pradesh leader Dr. Y S Rajasekhara Reddy (YSR).
Volunteers representing the YSRCP NRI NZ team visited the NZ Blood Services in Epsom to donate blood in memory of the leader. The following are the blood donors: Anand Yeddula, Susmitha Chinnamalreddy, Samanth Degapudi, Prabhakar Vasipalli, Vijay Alla, Pavan Reddycherla, Pranav Annamaraju, Aaron Samuel.
"The blood donation drive was our humble effort to serve the New Zealand communities on the 'Vardhanthi' (the death anniversary) of our Leader. Our Association will try to emulate the values followed by Mr Reddy. It was his vision and concern for the poor and the needy in particular that is remembered by all Telugu-speaking people around the world" President of YSRCP NRI NZ team, Mr Yeddula said.
He said that the YSR Vardhanthi Program was supported by the below members of parliament, stage legislatures, and senior government officials from Andhra Pradesh and they lauded the efforts by the YSRCP NRI NZ team through online Zoom meeting: Sri Maddila Gurumoorthy, Tirupati MP, Sri Nandigam Suresh Babu, Bapatla MP, Sri Madhusudhan Reddy, Srikalahasti MLA, Sri Venkat Medapati, AP NRT Society President.
After the blood donation camp, the supporters of Dr YSR gathered at the Wesley Community Centre and paid tributes to him. The below NZ Telugu community leaders attended the meetup as guests: Siva Kilari, National Party MP Candidate for Manurewa, Ex-Presidents of NZ Telugu Association – Bala Beeram, Jagadishwar Reddy, Srilatha Magatala, Kalyan Rao, and Prathap Nadireddy, Founder President of Mana Andhra Telugu Association.
Participants include Bujje Babu, Pushpak Kura, Raghunath Donthireddy, Ramesh Panati, Rajasekhar Yammanuru, Jagadeeshwar Reddy, Sarvesh Cheemakurthi and other YSR supporters.
About Dr Y S Rajasekhara Reddy
Dr Y S Rajasekhara Reddy, popularly known as YSR, was born on July 8, 1949, in Pulivendula in Andhra Pradesh. In a career spanning 25 years, he served his State in various capacity. He was the President of the Andhra Pradesh Congress Committee and Leader of Opposition in the State Assembly.
His life was a classic textbook case of service and commitment. He was kind to the poor and fierce with his political enemies. He was personification of an ideal leader and a man who knew no fear.
YSR entered active politics in 1978 and contested and won in four State Assembly elections and Lok Sabha, the Lower House of Federal Parliament. He was the 14th Chief Minister of the State in 2004. He died in a helicopter crash in the dense Nallamala forest on September 3, 2009.-contributed by Ananda Yedudula based in Auckland.