Bangkok, November 2023 – The much-anticipated World Hindu Congress 2023 is set to make its debut in Bangkok, attracting around 3,000 Hindus from 60 different countries. Hosted by the World Hindu Foundation, the three-day event will take place from November 24 to November 26 at the Impact Exhibition and Convention Centre under the theme, 'Jayasya Aayatnam Dharmah' (Dharma, the abode of Victory).
The Chairman of the World Hindu Congress, Susheel Kumar Saraff, highlighted the significance of the event, emphasizing discussions on enhancing contributions to the global economy, empowering women, fostering youth development, and promoting social and cultural values.
Distinguished Speakers
The prestigious event will feature prominent speakers, including Uttar Pradesh Chief Minister Yogi Adityanath, 'Hugging Mother' Amritanandmayi Devi, RSS Head Dr Mohan Bhagwat, Zoho Corporation Chief Executive Sridhar Vembu, and other esteemed figures from various fields.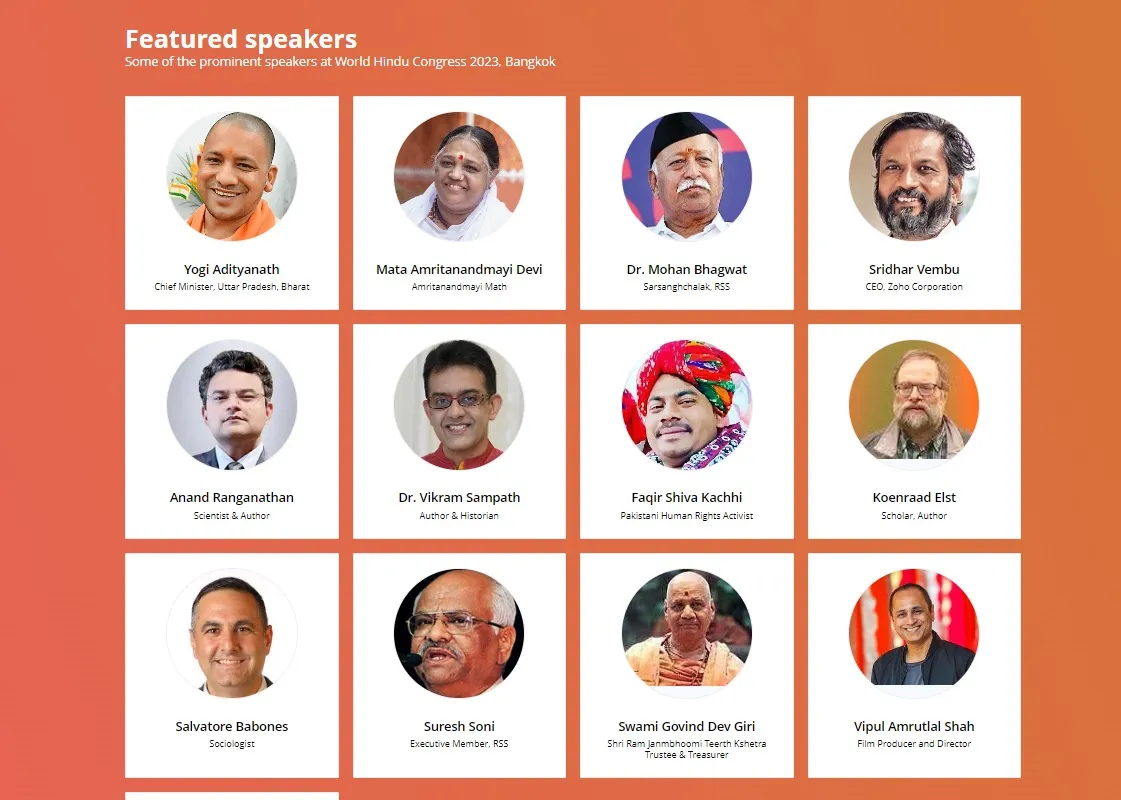 Thematic Conferences
The Congress will host seven parallel thematic conferences addressing economic, education, media, political, youth, women, and organizational issues. These conferences aim to explore the values, creativity, and entrepreneurial spirit of Hindus while providing a platform for collaboration among leaders, activists, and thinkers.
The Congress will feature seven parallel conferences, including the World Hindu Economic Forum, Hindu Educational Conference, Hindu Media Conference, Hindu Organisational Conference, World Hindu Democratic Forum, Hindu Women Conference, and Hindu Youth Conference. These conferences will address various aspects of Hindu contributions to society, including economics, education, media, politics, organizational matters, and the unique leadership of Hindu women and youth.
New Zealand Connection
The Hindu Youth Conference and the Hindu Women Conference, both with a New Zealand connection, will play a pivotal role in the Congress.
New Zealand will be represented by Professor Guna Magesan, President of the Hindu Council of New Zealand.
World Hindu Congress Background
The World Hindu Congress, organized by the World Hindu Foundation, is a quadrennial event that provides a global platform for Hindus to connect, share ideas, and impact the common good. Previous editions were held in New Delhi (2014) and Chicago, USA (2018). The guiding philosophy of the Congress is 'Yato Dharmas tato Jaya' (Where there is Dharma, there is victory).
For more information about the World Hindu Congress, please visit www.worldhinducongress.org.