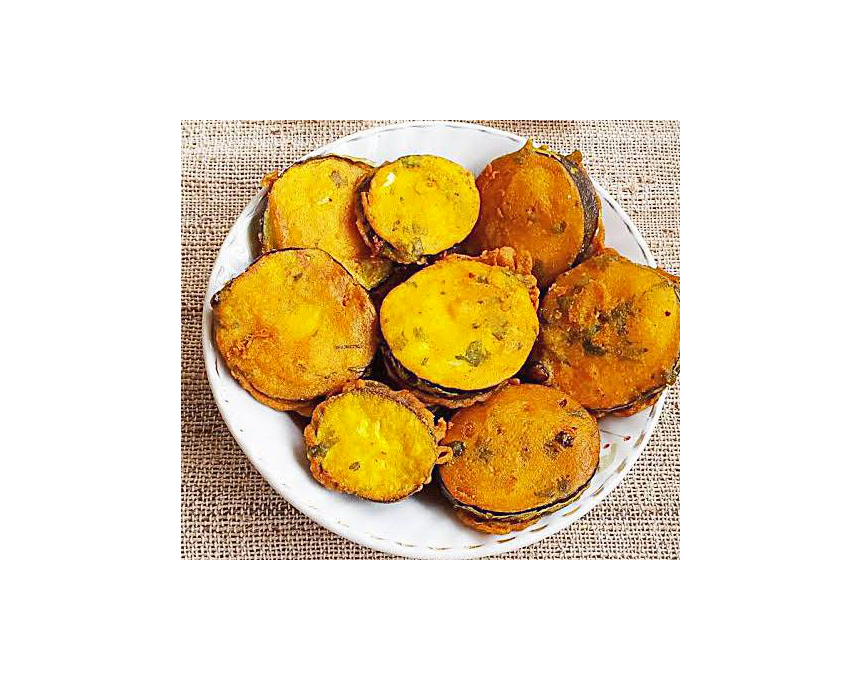 Ingredients
1 medium size baingan (Brinjal)
4 tbsp gram flour (besan)
1 tbsp rice flour (chawal ka atta)
1 tsp red chili powder
1/4 tsp coriander powder
1/4 tbsp-garam masala powder
Fresh coriander chopped handful
1/4 tbsp-Mango powder
Salt to taste
Oil to deep fry
1/4 tsp chat masala
METHOD
Take a mixing bowl, add besan,garam masala powder, rice flour, red chili powder, coriander powder, fresh coriander,mango powder and salt. Mix all the ingredients well and with the help of little water to make a thick batter.
Wash the baigan and cut them into thin round pieces .
Sprinkle and apply salt, chili powder and chaat masala on both the sides.
Slices should be well coated with the batter on both sides.
Drop gently into the hot oil and fry till the pakoras begin to turn golden around the edges.
Take them out on a kitchen towel and serve hot with mint coriander chutney
COCONUT FUDGE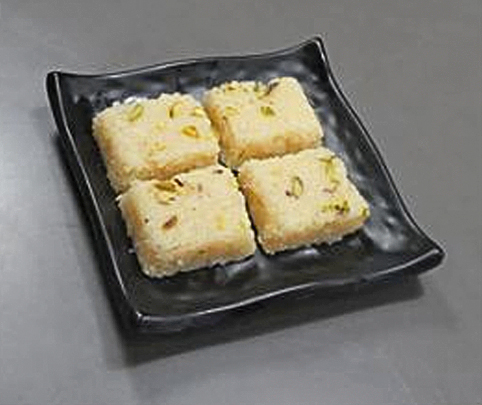 Ingredients
Fresh coconut-2
Condensed Milk – 1 cup (250 gms)
Pistachios – 10 to 12 (slices)
Green Cardamoms Powder -1 tbsp
Ghee – 2 to 3tbsp
METHOD
Take 2 fresh coconuts, remove their fibre and peel them. After scratching their covering, wash them and grate them coarsely ground.
After grinding them, preheat a pan. Add 2 tablespoons of ghee in the pan and melt it. Add 2 cups of grinded coconut in the pan and roast while continuously stirring it on a medium flame for 5 minutes.
After roasting it for 5 minutes, add condensed milk to it and cook while continuously stirring until it reaches to its thicker consistency. Add cardamom powder to it after it has reached the desired consistency.
Stir to mix well and switch off the flame. Take an even plate and grease it with ghee.After greasing it, spread the cooked mixture evenly on it. After spreading the mixture, garnish it with chopped pistachios.
Keep the plate aside in a cool place to set for an hour. After an hour, the mixture has set.
Heat the bottom of the plate while rotating it on a flame for 5 to 10 seconds. After heating the tray, now cut peices and serve with tea and snacks.
Very easy receipe to be used during festive season.
Suggestion:You can use dry coconut powder to make your work more easier.